Best Digital Asset Management (DAM) software and platforms for boutique design agencies 2023
What is DAM? If you're a designer, there's every reason for you to be interested in DAM.
DAM stands for "Digital Asset Management". It's a term used to describe the process of organising, storing, and managing all of your digital assets. This include images, videos, and maybe your creative briefing documents.
DAM is important for any organisation, particularly corporates. But we all know that designers are the victim of poor asset management. And clients expect quick turnaround. So it's hard to juggle.
If you work for a design agency, you need a Digital Asset Management solution.
Have you ever seen your creative folders end up looking something like this?
Final.pdf
Final v2.0.pdf
Final (actually final).pdf
Final v3.0.pdf
Final (client made more edits) v18.8 (copy).pdf
As you can see, Digital Asset Management is crucial for any design or creative agency.
---
Why you need to get a DAM tool
For boutique agencies, there's several reasons why it is important to have a digital asset management tool:
Improved organization: A digital asset management tool helps you organize your digital assets in a way that is efficient and easy to use. With a good digital asset management tool, you can quickly find the files you need, and you can be confident that they are stored in a secure and accessible location.
Better collaboration: A digital asset management tool can make it easier for teams to collaborate on projects, by providing a central location where everyone can access and share the files they need. This can help improve communication and collaboration within your organization.
Increased productivity: A digital asset management tool can save you and your team time and effort by making it easier to find and access the files you need. This can help increase productivity and reduce the amount of time you spend searching for files.
Better security: A digital asset management tool can help you keep your digital assets safe and secure. With a good digital asset management tool, you can easily set permissions and controls to ensure that only authorized users can access your digital assets.
---
How to use a DAM platform
You can't just expect any DAM tool to do the hard work for you. You need to set some standards and define some rules that everyone in your team will follow, for example, naming conventions and version control behaviours. Here's some critical thing you need to consider before you get started:
Identify your team's digital assets: Before you can start managing your digital assets, you need to know what they are. Take inventory of all the digital files that your organization has, including images, videos, documents, and any other type of digital file.
Establish a naming convention: One of the biggest challenges with managing digital assets is keeping track of all the different files. To make it easier to find and organize your files, establish a clear naming convention for all of your digital assets. This should include a standard format for naming files, as well as rules for how to categorize and organize them.
Choose a digital asset management system: There are many different digital asset management systems available, each with its own set of features and capabilities. Choose a system that is well-suited to your organization's needs, and that will make it easy to store, organize, and manage your digital assets.
Train your team: It's important that all members of your team understand how to use your digital asset management system and follow the established naming convention. Provide training and support to help everyone get up to speed and ensure that your digital assets are being managed effectively.
Regularly review and update your system: Digital asset management is an ongoing process, not a one-time task. Regularly review and update your system to ensure that it is still meeting your organization's needs and that your digital assets are being managed effectively.
---
Which DAM platform should we use?
If you're looking to find a way to improve how you manage your creative assets, we recommend you check out InVision which is one of the best creative platforms, and highly trusted.
We also think you should consider Extensis Digital Asset Management which is better for smaller teams such as boutique design agencies.
---
The winner for Digital Asset Management — InVision
A real-time workspace for teams to collaborate better, align faster, and move forward together.
InVision is a very popular tool, and we don't need to give it too much airtime.
If you're a serious designer, you already know all the amazing things that InVision offers.
---
Accessible, cloud-based digital asset management for smaller teams.
In order to provide marketing teams and agencies with more flexibility, we offer Connect Assets in addition to font management through Connect Fonts, which is available by subscribing to our
The digital asset management pricing includes 1 TB of data storage per user for Connect Assets, pooled among all licenses purchased for your team. Extra storage is available in increments of 1TB at $200 per user per year.
When you purchase annual licenses for Connect Assets, they are good for an entire year from the date of purchase. Your licenses will automatically renew each year through your original method of payment. Easily add licenses or change your payment method at any time.
Connect Assets reduces the time it takes to find what you need, so you can stay productive, stay on track, and stay on schedule.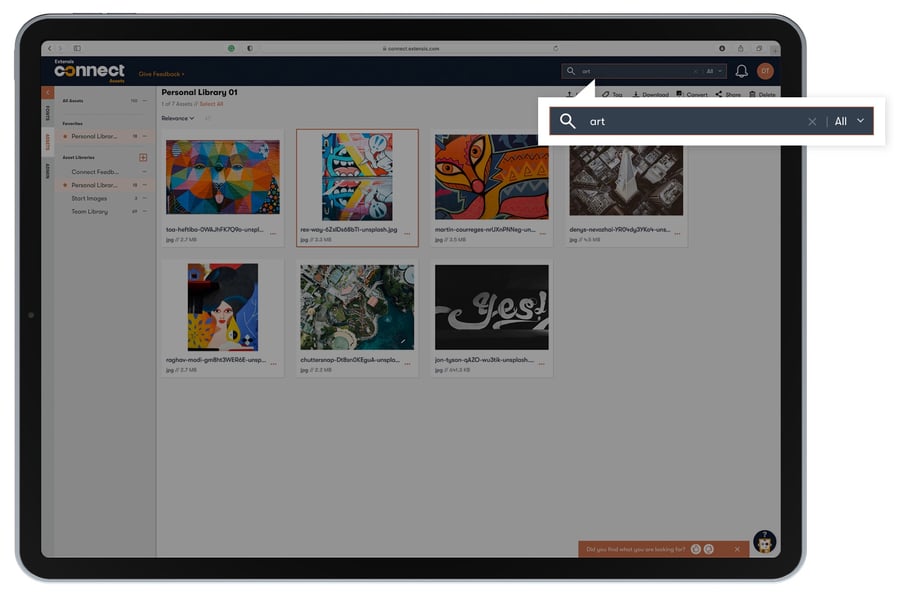 Do you have better things to do with your time than organize and tag all your assets?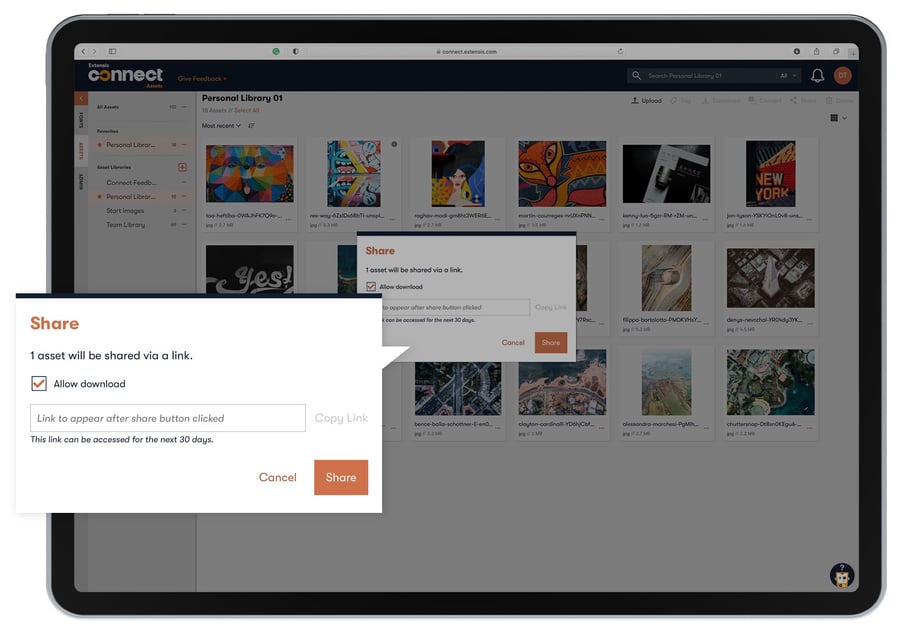 With Extensis Digital Asset Management, it's easy to share pre-existing assets, works-in-progress, and final deliverables, collaboration becomes more comfortable and consistent.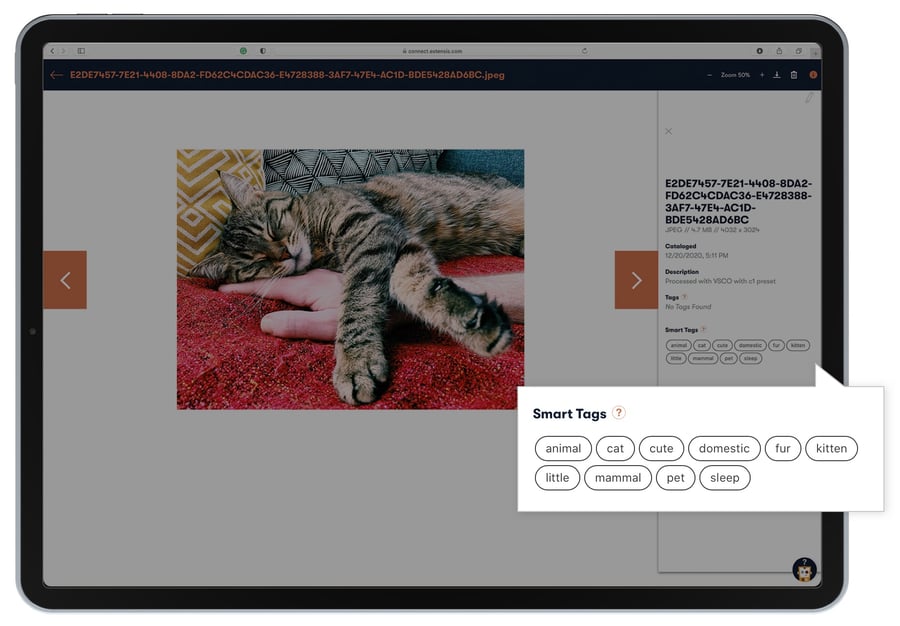 AI-powered smart tagging and intuitive search empower you to save time and always find what you need.
Sending assets to teammates and clients should be seamless.

Confusion over which assets are approved or right for a project can break a creative flow.
When creative materials are scattered, you can't find what you need.

If you're like many creatives, getting inspired and executing your vision isn't the hard part of your job.
Empowering creatives to reclaim their time and collaborate from anywhere.